The SugoSure Physician Portal
The portal comprises a SugoSure Patient List Screen plus Patient Review Screens for each active patient which contain clinical information and detailed glycaemic control analysis.
This is all arranged in a way which is easy to use, supports your decision-making process and has clear audit trails.
The portal may be accessed through standard web browsers on a desktop or large tablet mobile device.
Additionally you will receive SMS alerts and reminders in the case of patient emergencies or events due for completion according to SugoSure's protocols.
All data stored by SugoSure is encrypted and accessible only upon secure user login.
Data is stored in the ConnectedHealth Clinical Data Platform which analyses a data set from both physician records and patient logs. Using SugoSure's proprietary algorithms, the system guides both clinical team and patient to enable best practice diabetes management.
ConnectedHealth adheres strictly to regulations as laid out in the Personal Data Protection Act.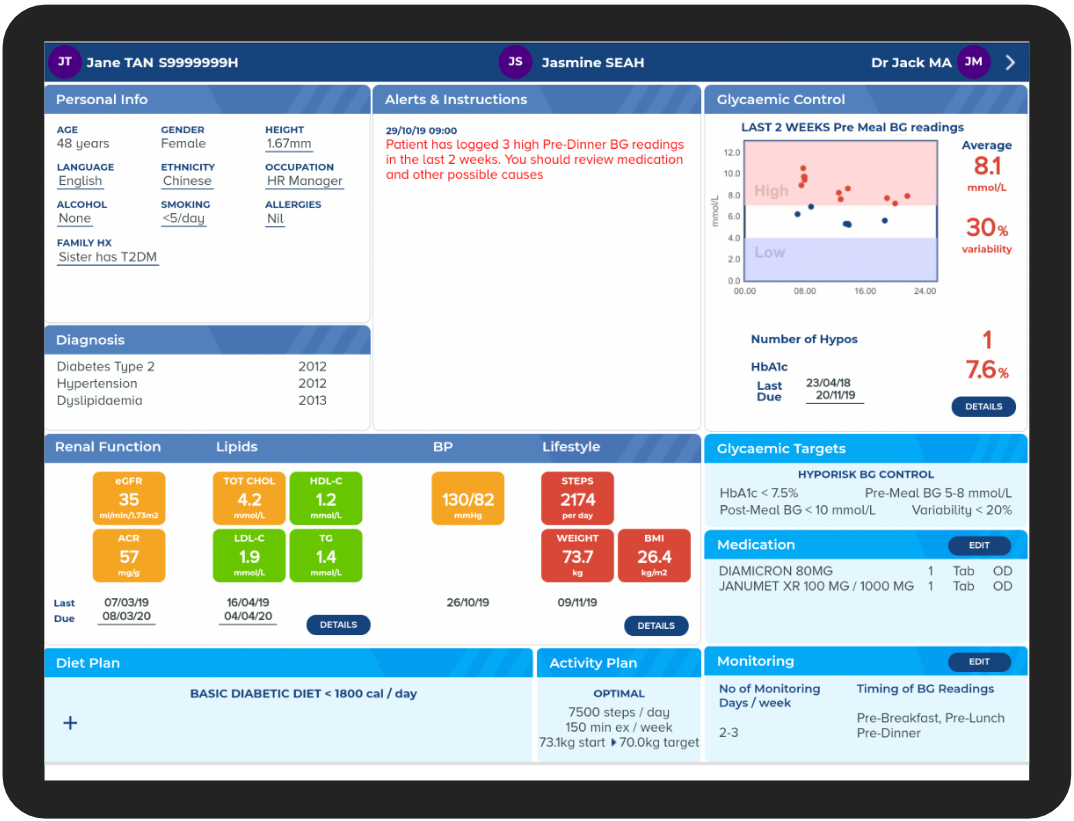 Information
Patient General Information
Diagnosis
Detailed Glycaemic Control charting
Lab Test Summary
Medication Summary
Monitoring Summary
Alerts box
Messaging
In-built to Patient and to/from Health Coach
Care Plan Settings and Targets
Diet Type(s)
Activity Goal
Weight Goal
Glycaemic Control Target
Medical Records
Appointment and lab test booking
Through integration with EMRs scheduled 2021
SugoSure's Protocols
SugoSure's protocols are based on good clinical practice and have been extensively discussed with our Medical Advisory Board. They are designed to help you frame your patient's Clinical Plan. They also alert and guide you so that you can conduct Remote Reviews at appropriate times depending on how each patient's level of control.
Our health coaches also follow set protocols for patient interactions through messaging and teleconsults (based on best practice Diabetic Nurse Educator support). They work with each patient to develop a Lifestyle Plan which complements your Clinical Plan in an integrated and coordinated way.
What is a Remote Review?
A feature of SugoSure's approach is remote monitoring of patient blood glucose and lifestyle data by physician and health coach.
At periodic intervals the SugoSure doctor will be alerted by SMS to conduct a Remote Review through the SugoSure Physician Portal.
During a Remote Review you will:
Review patient progress based on blood glucose readings and lifestyle measures logged
Make changes to the Clinical Plan if needed e.g. adjustments to medication dosage or changes in blood glucose Monitoring Schedule
Write a short note in medical records.
If required, ask health coach to work on specific issues with the patient
If required, write a brief message to the patient.
This typically takes 2-3 minutes per patient and the SugoSure Physician Portal makes the process as smooth as possible with alerts and decision support tools.
The frequency of Remote Reviews will depend on each patient's glycaemic control: stable patients require less frequent review than those with problems. The health coach will also play a role in prompting a Remote Review if needed.
Remote Reviews are billable by physicians.
SugoSure's Remote Reviews enable more closely-monitored care, earlier problem identification and resolution. They are a key part of SugoSure's design